Bivha International School Curriculam :
International : IB , IGCSE
National : CBSE , ICSE
State Board : BSEB,BSSB,ISC
Open Board : IGNOU, NIOS,BBOSE

Approvals and Recognitions
BVHA INTERNATIONAL SCHOOL (BIS) Curriculum is recognized by COBOSE, UGC, NCVT and MHRD (Government of India) And Distance Education Council (DEC) for Open and Distance Learning. The school is also accredited by the various national & international authorities such as Ignou , Bihar School Examination Board, Bihar Open School Examination Board, CBSE*,IGCSE **,IB.
School is also authorised by IELTS and British Council as Test Center for A,AS & O Level.
Bivha IS affiliated to a number of organizations which enhance the opportunities that are provided for our students and the development of the school.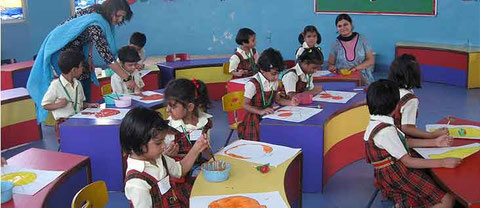 Bivha International School is a candidate school for the IB Diploma Programme.
"The IB experience is not just a way to learn,
it's a way of life, and the way to a better world."

The International Baccalaureate® (IB) is a non-profit educational foundation, motivated by its mission, focused on the student. The IB offers high quality programmes of international education to a worldwide community of schools.
The three programmes for students aged 3 to 19 help develop the intellectual, personal, emotional and social skills to live, learn and work in a rapidly globalising world. The programmes can be offered individually or as a continuum. There are more than 774,000 IB students at 2,815 schools in 138 countries.
The Primary Years Programme for students aged 3 to 12 focuses on the development of the whole child in the classroom and in the world outside.
The Middle Years Programme for students aged 11 to 16 provides a framework of academic challenge and life skills, achieved through embracing and transcending traditional school subjects.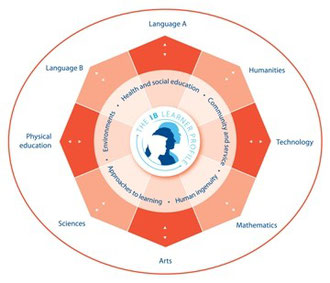 The Diploma Programme for students aged 16 to 19 is a demanding two-year curriculum leading to final examinations and a qualification that is welcomed by leading universities around the world.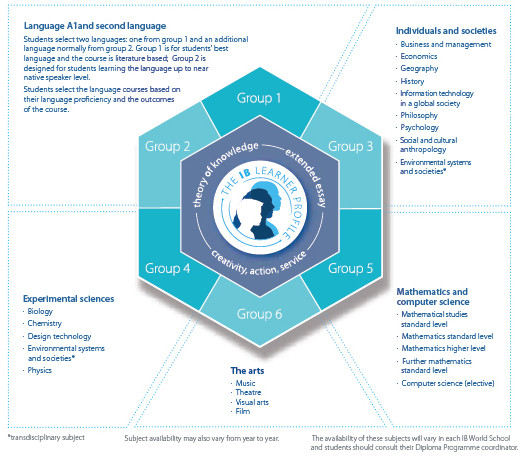 What is the Diploma Programme?
The IB Diploma Programme is designed as an academically challenging and balanced programme of education with final examinations that prepares students, normally aged 16 to 19, for success at university and life beyond. The programme is normally taught over two years and has gained recognition and respect from the world's leading universities.
IB Diploma Programme students study six courses at higher level or standard level. Students must choose one subject from each of groups 1 to 5, thus ensuring breadth of experience in languages, social studies, the experimental sciences and mathematics. The sixth subject may be an arts subject chosen from group 6, or the student may choose another subject from groups 1 to 5.
In addition the programme has three core requirements that are included to broaden the educational experience and challenge students to apply their knowledge and understanding.
(1) The Extended Essay is a requirement for students to engage in independent research through an in-depth study of a question relating to one of the subjects they are studying.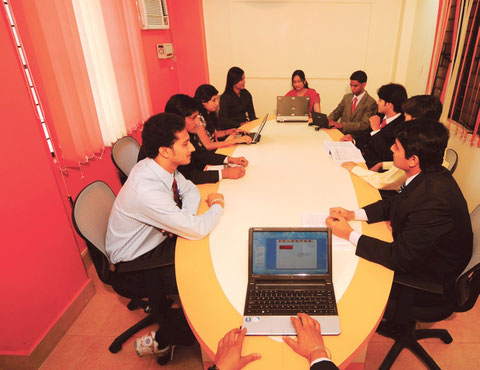 The learning experience at Bivha International School does not end at the end of lesson time; an equally challenging, and mandatory, co-curricular programme of sports, arts and service activities complements it.

Sports:  Outoor facilities include an all-weather swimming pool, playing fields for football, cricket, rugby and hockey with courts for badminton, basketball, volleyball and squash. To supplement these facilities, there are also a well-equipped indoor sports hall and a fitness centre. The Olympic philosophy of taking part is encouraged and developed by fully-qualified sports coaches.
Arts:  The state-of-the-art Arts Centre provides opportunities to go beyond the experience of classes in Art, Music and Drama and enables students to use their creative talents to maximum effect. These are set up so that students can express their creative spirits as they learn through singing, dancing, acting, painting and sculpting. Students will be required to partake in at least two spheres of aesthetics activities regularly.

Service:  All Bivha students regularly spend time every week, giving freely of their time and effort in a range of social service activities to the neighbouring communities and to the campus community itself. We believe that having the experience of service from an early age creates an awareness which is fundamental to the development of our students .