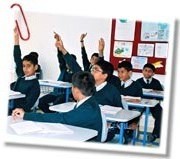 Classrooms

The classrooms are spacious and are designed to get lot of natural light and air. The soft boards in the classrooms facilitate display of student work there by encouraging creativity and the zeal to learn.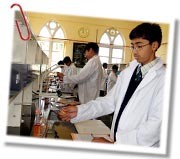 Labs
We have three labs for each of the sciences: Physics, Chemistry and Biology. These labs are well equipped and cater to the needs of the various syllabi that the students opt for. Here the students perform various experiments pertaining to their field of study.
There are two computer labs with 25 to 30 computers in each. Students use computers for their research work and for the purpose of communication with their family.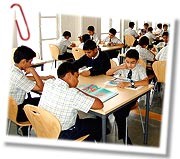 Library
The well lit and airy library is a welcome place at BIS. This resource center is well equipped for various research needs of the school community. Currently we have more than 8000 documents; both print and electronic. Students make use of the resources for various projects. It is a fully automated learning resource center. Our Grade V students have a cozy reading corner and a collection of books that deeply interest their young minds. V-Sat Transmissing station for Media Library at Simrahi Bazar.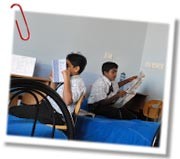 Boarding houses
We have four boarding houses — Maa, Bhaskar, Martand and Vivasvan. A group of 100 boys is placed under the charge of a housemaster. Our spacious and comfortable rooms accommodate between three and six boys in each room. Every room has an attached bathroom. A resident house-mother assists the housemaster in pastoral cares. A housekeeper coordinates with each of the resident staff for the smooth functioning of all the houses.

Each house contains two student common rooms with comfortable lounge furniture, television, table tennis and indoor games facilities. All the students complete their studies in the study hall, a large room in the boarding house designed to provide each student with ample study space and storage areas for books and projects. The study hall is supervised by the teaching faculty and other faculty often visit to assist students with specific projects or homework tasks.
The principal and the entire teaching staff reside on the campus to ensure their easy availability for the child at all times.
At present admission are open for only 44 children in Bis Hostel. Ask Bivha Corporation Command Office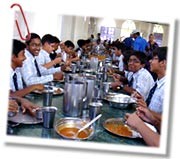 Dining hall
A well-balanced, healthy, vegetarian diet prepared under the supervision of a qualified nutritionist is served in a well-designed central dining hall, to all the students who dine along with the teaching staff and their spouses. This hall can accommodate 65 - 70 people. The catering manager is the administrative head of the dining hall.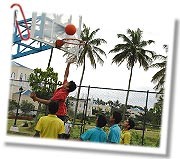 Sports
The school has large playing fields and our students have the opportunity to play a range of sports — cricket, football, athletics, tennis, badminton, table tennis and squash. Horse-riding activity is on the anvil. A modern gym and a swimming pool provide additional physical activity. To bring out the child's maximum potential, we have professional coaches for all sports.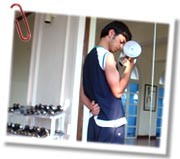 Gym
At Bivha, we believe in giving our students quality physical education. With this in mind, we have created a state-of-the-art gym that provides optimal fitness training to students.

We have a 9 station multi gym equipment replete with 10 bars, 10 sets of dumbbells and 1 station bench press.
Our gym is used by students of grade X and XII. Currently the coaches of different sports take their team members to the gym according to the need. Using the gym is compulsory for the boys who are in the school sports team and optional for those who are not involved in active sports.


Healthcare and medical facilities
Our school has an 18-bed hospital with basic medical facilities. A qualified resident doctor and nurse are on call 24 hours a day. In the unlikely event of serious injury and illness, boys are attended to by specialists in Patna. We have a tie up with the IGMS,Apollo and Nearest Goverment Hospitals based in Simrahi Bazar for detailed check-ups when needed...
Counselling
The school has an experienced psychologist and counsellor who provides counselling services in addition to identification, diagnosis and programme development for students experiencing mild learning difficulties. The counsellor is the manager of the learning support department of the school and works with students with specific needs to provide individualised educational support:
| | |
| --- | --- |
| | assistance with personal problems and study habits |
| | |
| | |
The counsellor also assists in the development of programmes for gifted and talented students.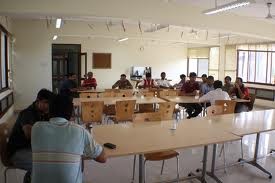 General store
The Bivha International school's general store provides all essential commodities of daily life like stationery, toiletries and footwear. A tuck shop provides nutritious health food and juices.